bigbang_land
and we failed in the last round because the members disappeared.
I would love to see Raj Fans coming over and join us in Round 3. It is a lot of fun and you can get to know more fans.
bigbang_land
is a challenge based community where you compete in one of four teams to earn points. There will be posted challenges ranging from graphics, writing, trivia, word games, thinking games and just plain luck.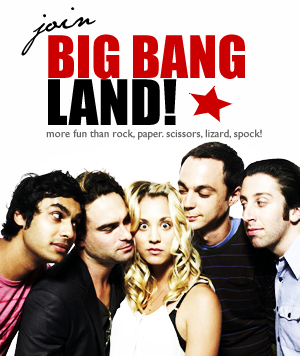 If you join please state that
toivoton
sent you :D
Hello, I hope this is allowed. I pretty much hope so. I am in need for Raj people. I am leader of Team Raj at
Note: If this post is deemed inappropriate by moderators, many apologies. Feel free to delete :)
---
Big Bang Icontest
Coming soon to a community near you, the Big Bang Theory Icon-Making Contest!
Click here to see the community and join us today
Our first challenge will be underway as soon as we have our starting members, but the community is already open to suggestions for challenges, affiliates and volunteers.
Full community info here
[1-9] Big Bang Theory
[10-40] Chuck
[41] (500) Days of Summer
[42-46] Angels and Demons
[47-51] Pride and Prejudice
[52-53] Shakespeare In Love
[54-60] Practical Magic
[61-65] Joseph Gordon-Levitt
[66-101] Megan Fox
[102-114] Olivia Wilde
[115-126] Alexis Beldel




Here @
sexy_mood_music. The post will be public for 5 days, and after that, you NEED TO JOIN to see the post, but don't worry because EVERYONE GETS ACCEPTED! Please read the rules at the entry, and please leave any comments or feedback you have over there, too. Thank you! :)


This place is under construction until I get moved or until I find another moderator to help me make it pretty and awesome. But in the meantime, welcome!
This is a place for fans of the fabulous Rajesh Koothrappali (of The Big Bang Theory) can come to talk about their Raj love, favorite Raj moments, and any Raj fan art/fic/etc they'd like to share.